Truth be told, we had a blast doing this science experiment! Last week, I stumbled across this experiment while browsing Pinterest for kid-friendly science experiments. What stood out to me the most about this particular one was that I knew ALL three of my kiddos could participate. The age gap between my oldest (8) and younger two (3&2) can sometimes present a challenge but, this experiment was perfect for the whole family!
Supplies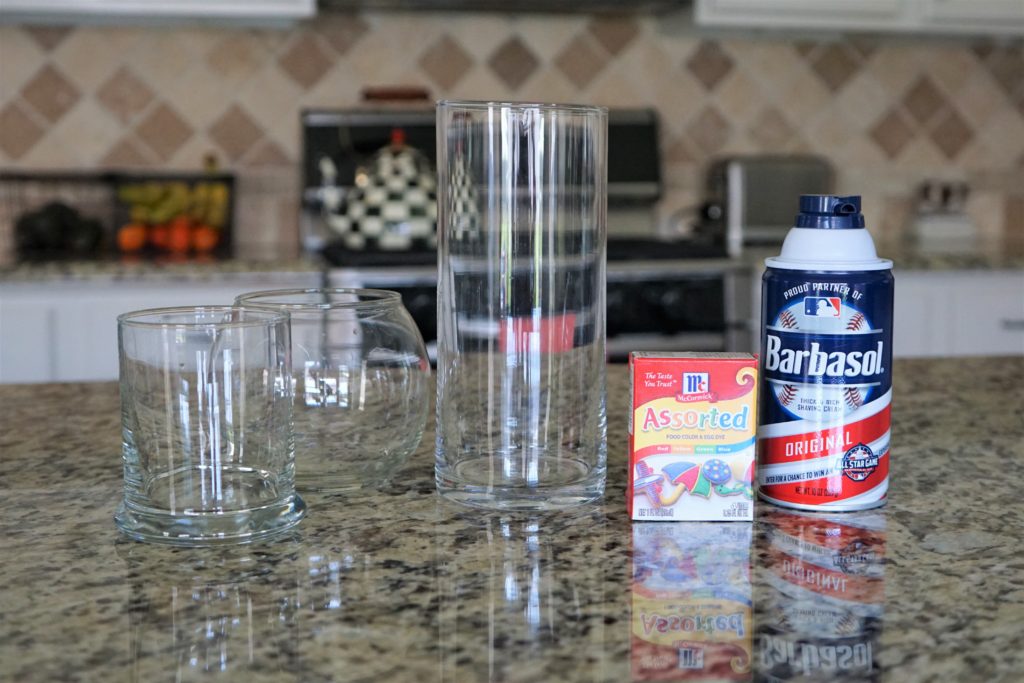 Clear Vase
An assortment of food coloring
Water
Shaving Cream
Paper Towels
Paper Plates
Side Note: Barbasol Original is the best shaving cream to use when doing an experiment that requires shaving cream.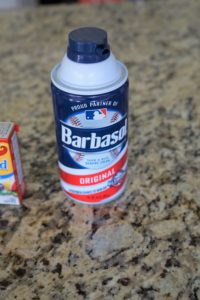 Avoid getting women's shaving cream because most of them are tinted with color and have fragrances and moisturizers added to them which change the chemical make up. I'm only saying this because I made the mistake of getting women's shaving cream. (MOM FAIL) Plain old men's shaving cream works best!
Steps
Pour water into a tall clear vase (emphasis on TALL & CLEAR) about 3/4 of the way full.
Place the vase on a paper plate so that you protect whatever surface you're working on. This experiment will get messy! You'll notice I did not do this. Learn from my mistakes. I was very thankful for my black kitchen table!
Pour shaving cream over the top of the water to form your "cloud". Keep your cloud on the thin side.
Pour selected food coloring over the cloud. I let each of my children pick their color before we added the shaving cream and made sure that everyone understood we take turns using each color. I like to minimize the potential for fighting to break out.
Wait for the color to drip through the shaving cream.
Watch for the rain cloud to start raining colors!
TA-DA! Fun and Easy!
Use the Scientific Method
You could totally take advantage of this moment to teach your children about what the Scientific Method is! Performing your experiments using the Scientific Method helps to teach them how to study the world around them in a scientific manner. You can explain that real scientists use these same steps when carrying out their experiments.
Steps of the Scientific Method
Make an Observation
Form a Question
Form a Hypothesis
Conduct the Experiment
Draw a Conclusion
Keep in mind that this is a suggestion more for the older kids. My toddlers do really well observing and forming questions but it stops there, and that's okay!
I hope this post inspires you to channel your children's inner scientist and get experimenting!