This week I wanted to follow up on last week's post with an example of what our summer calendar looks like. I also wanted to give out some tips and tricks I've learned over the years! As crazy as it may seem to have a summer calendar I can promise you they are lifesavers. Below is an example of my summer calendar which I hope you can use as a guide or starting point!
Why You Need the Calendar
You need the calendar to preserve your mental sanity, bottom line. Trust me when I say kids just do better knowing there is a plan in place. I have found that it is very helpful designating certain days of the week with specific activities so that way there is no confusion. Not to mention, this gives you and your kiddos things to look forward to! Keeping in mind that not every day needs to be booked up. Finding a nice balance between downtime and busy is the goal!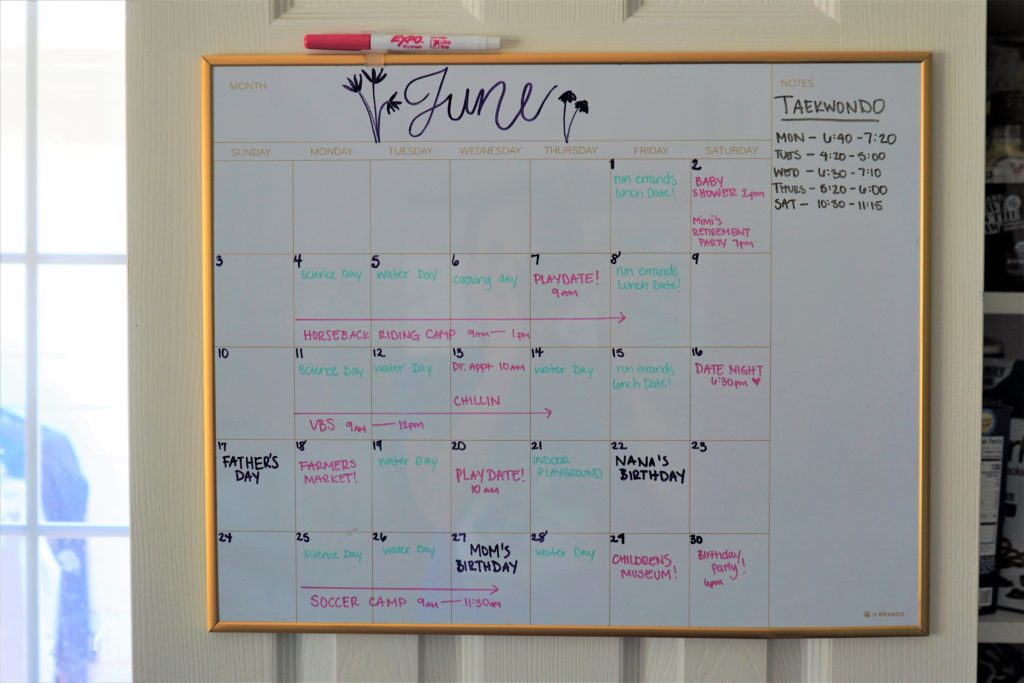 How to Map Out Your Calendar
Blackout days should be the first thing you mark on your calendar such as camps, doctors appointments, or scheduled play dates with friends. Anything that you've spent money on or made a commitment to should fall under the Blackout umbrella.
Next, mark your Fun Outing Days, for example, local festivals, farmers markets, or museum exhibits, just to name a few. Do what you feel is manageable for you and your family!
Lastly, mark your Off Days for the days spent at home. These are the days where you can really have fun and be messy. Do science experiments, finger paint, bake cupcakes, or have a movie day; this is where you can get creative!

Tips & Tricks
One of the smartest mom moves you can make this summer is to designate specific days of the week for your children's absolute favorite activities. That way you can avoid the "Can we..?!" statements every day. These are the activities that your children ask about every five seconds; you know what I'm talking about. For my children, it's swimming and going through the carwash.
We drive through the carwash EVERY Friday. True story. I have had to designate Tuesdays and Thursdays as swim days and Fridays as carwash days. This is one of my tried and true tactics!
If you commit and stick to a summer calendar you no longer have to have that overwhelming feeling of "WHAT AM I GOING TO DO WITH THESE KIDS ALL DAY?!" I promise you won't regret putting in a little effort to plan out a fun summer for you and your kiddos!
"You see, being organized is NOT about being perfect; it's about customizing your whole world to work FOR you."