I always joke with my dearest friend Val, or as I lovingly refer to her as Vizzle, that it was love at first sight when we met for the first time 8 years ago. She is hands down the nicest person you will ever meet and I have no doubt that her smile and charm can win just about anyone over! She is smart and witty and I guarantee that she has taught me more vocabulary words than any English Literacy class I've ever taken. I am lucky to have her as one of my closest friends and even more lucky that we've built a friendship together as mothers.
"Some souls just understand each other upon meeting." -N.R. Hart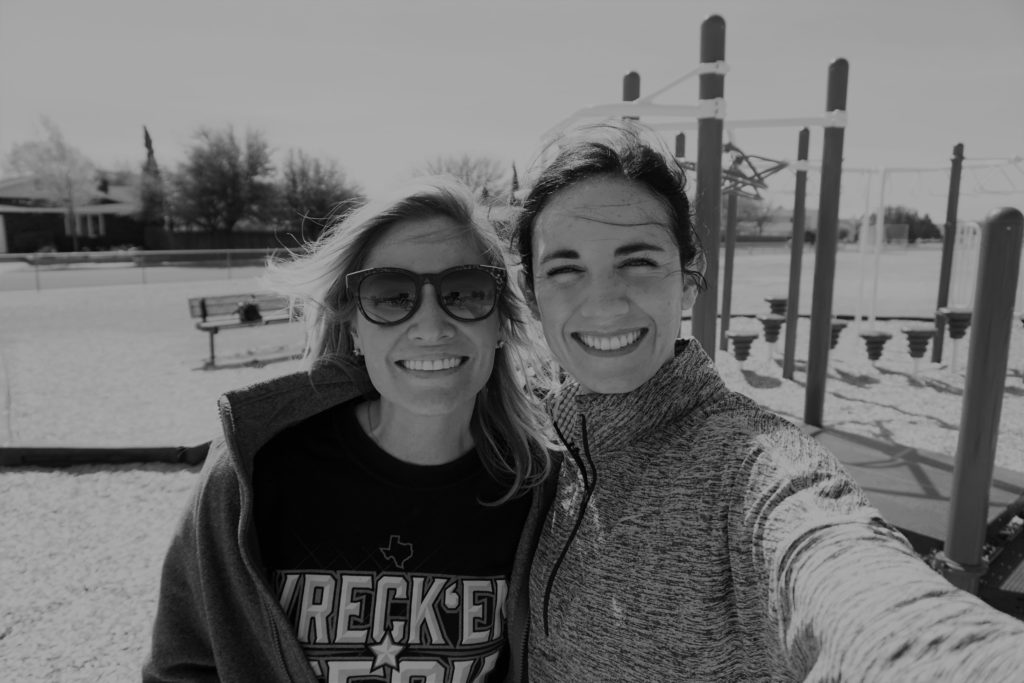 Almost two years ago my dear friend had to move her family away to Lubbock, Texas because of her husband's job. We went from living two minutes away from each other to five hours away from each other. It is safe to say that I miss her and her family terribly.
Val and her husband Matt have two children together, Cameron (6) and Silas (4). The Lavalley children and the Johnsen children have known each other since birth and are basically one another's bonus siblings. What is even cooler is that Matt, Val, and my husband CJ all went to high school and college together; the roots run deep between our two families.
CJ, Matt, and Val all went to Texas Tech together which is located in Lubbock. The windiest city in the state of Texas! The first year the Lavalleys were in Lubbock we made plans for my family to make the road trip out to see them for spring break. Not only was I excited to see my Vizzle I was also excited to finally see this college town I'd heard so much about over the years. We crammed five kids and four adults into Matt and Val's house for a long weekend of spring break fun! I'm pretty sure we ate our way through Lubbock that trip.
If you ever get the chance to visit Lubbock you have to get a burger from Spanky's and a Pomegranate Moscow Mule from The Crafthouse Gastro Pub. I promise you won't be disappointed!
We toured the Texas Tech campus along with the old college days stomping grounds. We took the kids to the park, went out to eat, made a Target run, ate some more, stayed up late every night, and cooked breakfast together every morning. It was the best and the time with our family friends went by too fast. We vowed that the following year we would make the trip to Lubbock again and designate spring break as our tradition.
For this reason, when spring break rolled around this year CJ and I loaded up our SUV with all the kids and made the trip out to Lubbock once again to see our friends who have become family. My favorite part is pulling into their driveway and seeing all our kiddos run into each other arms squealing with excitement in the front yard. The Lavalley welcoming committee is always there to greet us before we make it to the front door.
I would be lying if I said there weren't meltdowns and arguing between the kids every now and then. And I won't leave out my son, Sam, breaking a gas log out of Matt and Val's fireplace. To say I was mortified is the understatement of the century. The embarrassment literally brought me to tears and Val being the most gracious hostess slapped those tears right off my face! She wasn't about to let a broken gas log ruin our trip. Have I ever mentioned how much fun three-year-olds are?! In spite of the expected mishaps that come along with traveling with toddlers and young children, we all had a blast.
Lubbock is a small town in comparison to Dallas/ Fort Worth and most people wouldn't think of it as a spring break destination. There are no white sandy beaches or fancy resorts. It is located right smack in the middle of the South Plains and the wind in Lubbock is unlike anything I've ever experienced. Don't bother curling your hair or putting on lip gloss in the LBK! Be that as it may, it is where the Lavalleys call home for now and we will continue to make that drive at least once a year for as long as they're there because we love that family.
That's the beautiful thing about friendships, it doesn't matter where you are making memories all that matters is that you're together. Make the effort despite the inconveniences because the traditions you set in motion and the relationships you nurture will far outweigh any toddler meltdown or broken item. What a blessing to have friends that have turned into family.