I'd be lying if I said traveling with three young children was easy but Park City, Utah is worth the effort! Every year we whisk the kids away for a summer vacation up to our favorite mountain town, Park City. From it's charm to good food, family-friendly activities, rich history, and topography to die for this place has become our home away from home. This week I'm going to share some tips on how we manage traveling as a family of five and all of our favorite spots in our favorite mountain town!
Packing & Traveling Tips
-For our family of five, we bring three total suitcases with one of our bags half full because I like to leave extra room for anything we might buy while we're in Park City. I always pack the kids stuff in one big suitcase and me and CJ in one and a half suitcases. Consolidation is my main focus when packing and I always ask myself, "Do I really need this?".
-I NEVER travel without the Sleepy Sheep. Ever.
-In past years when the kids were babies, I always made sure to pack their crib sheets and blankets so that way their bed in Park City felt somewhat familiar. Bedtime in a new environment is hard enough on little ones so I always made sure to bring a little bit of "home" for them. Now that my kiddos are getting older this year was the first year I didn't need the crib sheets.
-We always schedule our flights during nap time because rushing kids out the door at the crack of dawn is a nightmare and traveling during bedtime is also a nightmare.
-I make sure to pack a variety of activities for the kids to do on the plane. Keyword being variety! My must-have items for the plane are sticker and coloring books and the iPad. I do allow my kiddos to watch movies or play on the iPad during the plane ride.
-I never bother bringing anything for myself to do on the plane because I spend the entire flight focused on keeping the kiddos entertained.
-Pack empty sippy cups and plenty of snacks for the plane ride.
-Take deep breathes and pray for the dear Lord to give you patience.
SALT LAKE CITY AIRPORT WILL NOT LET YOU GATE CHECK A STROLLER WEIGHING MORE THAN 20LBS.
PSA for Traveling with a Stroller! Some airports will NOT let you gate check a stroller that weighs more than 20lbs. I would definitely take the time to look into that when you're making travel arrangements.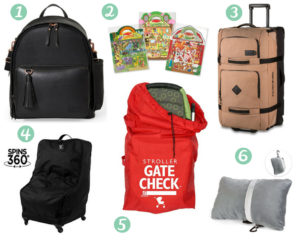 Renting Baby Gear
I highly recommend looking into renting baby gear when you're traveling with little ones. For the past several years we have used the Guardian Angel Baby Rental service and I cannot say enough good things about this company.
You name it they got it and everything is super clean. I schedule everything I need online. They come delivery and set up all your gear and pick it up when you're done. It's super easy, reasonably priced, and worth every penny!
For the Foodies
Most restaurants we eat at are family-friendly and have excellent patios. I love nothing more than sitting outside with a cold drink eating good food and enjoying the beautiful mountain weather. Below is a list of all of our favorite spots!
Shabu is our absolute FAVORITE! They offer a freestyle Asian cuisine and you gotta get the Dim Sum.
High West Distillery CJ and I like this place for date night. You can also schedule a tour of the distillery which we have yet to do but it's on our bucket list. The Vodka Lemonade and Dead Mans Boot is a must!
Wasatch Brew Pub has something for every taste bud and is a great atmosphere for kids.
Windy Ridge Cafe has a great breakfast menu and is another kid-friendly spot with a nice patio.
Main Street Pizza & Noodle family friendly environment with a patio directly on Main Street in Park City. It's a great place to people watch and chow down on some darn good pizza!
Red Rock Junction is another family-friendly restaurant with a menu that has almost everything and a cute patio.
Ledger's Deli I'm dead serious when I say I had the best Tuna Sandwich ever from Ledger's.
Deer Valley Grocery Cafe is a nice spot for breakfast or lunch and has a great patio overlooking the paddle boarders.
No Name Saloon is not for kids but we like this place for after dinner drinks!
Rocky Mountain Chocolate Factory is connected to Dolly's Bookstore and is our go-to for any ice cream cravings!
Walking up and down Main Street is my favorite thing to do and most of the restaurants we frequent are located on this charming strip!
Fun for the Kids
We love hiking but it's a little tough with toddlers because most of the trails are for older kids so we have been pretty limited on what trails we can hike the past several years. That being said, we love to hike around Silver Lake. It's an easy toddler-friendly hike that the kids can manage and the views are breathtaking.
The drive going up to Silver Lake is difficult for this Texas girl's nerves but it's worth it. I don't know if I will ever be comfortable driving up and down those mountain roads!
Utah Olympic Park is another family favorite that we have gone to every year. It's an all-day outdoor sports activity park with zip line, bobsledding, obstacle ropes course, alpine slide, mountain coaster, and more. CJ and I did the zip line a couple years ago and it was really fun! The only downside to the Utah Olympic Park is that it's expensive and there are always long lines.
With that in mind, we wanted to switch things up a bit this year and drove about an hour south to Snowbird. Snowbird Mountain Resort also has an outdoor sports activity park that mirrors Park City's Utah Olympic Park. The drive through the canyons and up the mountain was incredibly beautiful and Snowbird did not disappoint. There were NO lines and we shut the place down!
We had the BEST day and the kids had an absolute blast. It was the first year that all three of the kids were old enough to participate in the outdoor activities. Sam rode the mountain coaster with CJ about 50 times and it was the cutest thing ever. I think it's safe to say we have little adrenaline junkies on our hands!
On our last day, we sat on the patio at the Deer Valley Grocery Cafe and ate a nice lunch enjoying the views and cool breeze. After lunch, we all went paddle boarding and spent our last night at the house relaxing before our big travel day.
There is no doubt that there were a few meltdowns on our trip but that is to be expected when traveling with young kiddos. Surprisingly, the kids were better behaved for the flight home then going out which is usually never the case. Vacations are fun and stressful at the same time but I love having that quality time as a family. We so look forward to our yearly Park City trip and it's become such a special place for us! Building traditions as a family are important to me and CJ and we hope that our children grow up having the best memories of our time spent in Utah.